The Whitsunday coastal region is regarded as the heart of the Great Barrier Reef, right in the middle of the Reef's 2,300km length and only a couple of hours' boat ride away from shore.
It includes the largest offshore island chain along the entire Australian coastline with more than 90 islands with fringing reefs, an exciting haven for boaties.  We are Australia's sailing capital and a mega destination for tourists.
The mainland itself is home to large tracts of national parklands, state forests, rainforest, vine forests, beaches of pure silica, beaches of old, smoothed corals and coastal walking tracks that lead to breathtaking views.
We have amazing rainforests and six stunning national parks.
Our region is spectacular and unique but it also faces its biggest threats ever – rapid climate change and us!
The Whitsunday region is home to about 35,500 people. The region has a total land area of 23,862 square kilometres including major townships Airlie Beach, Bowen, Cannonvale, Collinsville and Proserpine.
Australia's largest offshore island chain, the 74 islands of the Whitsundays' "Cumberland Group", has a history that goes back 110 million years. When Gondwanaland broke into pieces creating India, South America, Africa, New Guinea, New Zealand and Australia.
Once, the Whitsunday islands were mountain tops but 37 million years of volcanic activity has made them islands. The ancient valleys are now drops offs of up to 300 feet under the water. There are rocks, found through deep sea drilling in the Tasman Sea, that match those found today on Whitehaven Beach. Research shows there were 2.5million cubic kilometres of silica-rich magma (lava) poured along the 2,500km rift.
Whitehaven Beach has been voted one of the best beaches in the world, with its 7km stretch of pure white sand made from 98% silica. It's so fine you can polish your jewellery with it. Surveys suggest the 1.85 billion tonnes of sand on the beach was only deposited 12,000 years ago when seawater was locked up in glaciers that covered Canada, Siberia and Northern Europe. Sea levels back then were much lower than they are today and after the glaciers melted, Whitsunday Island shifted from along the mainland coast. Longshore drift occurred, acting like a conveyor belt for sand. Whitehaven Beach was a perfect receptacle for that sand with its geology. While the beach has been losing sand for the past 4,500 years, it still has plenty to keep it blanketed.
Dugongs, or sea cows were also known as mermaids by early European sailors cruising the tropical waters in Australia and Africa.  They are shy and eat enormous quantities of seagrass to maintain their massive weight of up to 500kg, at around three metres long.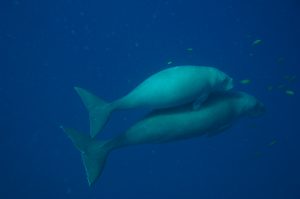 They are related to the even larger manatee which prefers the fresh or brackish tropical waters of the Americas.
Dugong populations are declining around the world but we are fortunate that the shallow waters that surround the islands of the Great Barrier Reef still provide sanctuaries, so that they can reach up to seventy years of age.
They were hunted for their blubber but are now protected in Australia.  However, they are dependent upon large meadows of seagrass, which face pollution from agricultural chemicals, urban drains, sediment from land development and coal dust from nearby ports entering the waters where they feed and breed. 
Algal blooms, exacerbated by climate change, reduce sunlight and the growth of these meadows, adding to the challenge of survival. Dugongs also share their habitat with boat propellers, discarded garbage and fishing lines, as well as being pestered by jet-ski operators. 
At Shute Harbour and other seabed developments and expanding anchorages, marina and channel dredging destroys large tracts of seagrass.
In the Whitsundays, volunteer groups (Seagrass Watch and OUCH) monitor the seagrass at low tide and by shallow diving.  The dugong's future is not bright and the threatened sea grass meadows are an essential ecosystem supporting so much other life that we take for granted.
This ancient landscape was created millions of years ago.  The volcanic activity that accompanied the breaking up of Gondwanaland was massive. Geologists estimate that roughly 2.5 million cubic kilometres of silica-rich magma were produced along the 2,500-kilometre-long rift.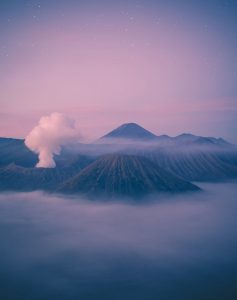 Most of the volcanic rocks were carried away to 'Zealandia' and are now submerged beneath the waters of the Tasman Sea. These rocks, found through deep-sea drilling, match those found on Whitehaven Beach. But marine surveys suggest 1.85 billion tonnes of sand on the beach was only deposited 12,000 years ago when glaciers covered Canada, Siberia and Northern Europe. With so much water locked up sea levels back then were much lower than they are today.
After the glaciers melted, Whitsunday Island shifted from along the mainland coast. In the process, longshore drift occurred which acted like a conveyor belt for sand. Whitehaven Beach was a perfect receptacle for that sand with its geology. Although the beach has been losing sand for the past 4,500 years, it still has enough to keep it blanketed.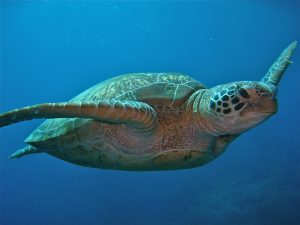 We are lucky enough to have six of the world's seven species of turtles here in the Whitsundays. Green and hawksbill turtles are commonly seen, while flatback, loggerhead, pacific ridley (olive ridley) and leatherback turtles have also been recorded. Green, hawksbill and flatback turtles are all vulnerable to extinction, and the loggerhead is endangered.
We have unique eco systems that tolerate wind, salt spray and shifting sands. Coastal she-oaks (casuarinas) whose grey bark protects it from sand-laden winds are plentiful when you wander the beaches here. And there are many hoop pines which you can see from the water on the islands – their height and straight branches a trademark. Their bark in horizontal 'hoops' from where they got their name and they date back to Gondwanaland.
There are blue gums, Moreton Bay ash and Grasstrees and 13 different species of mangroves which are vital for marine life. In some of our walks you can see the transition between the land and the sea and how the mangroves can make the transition into the ocean because of their toleration for saltwater. 
We also have orchids which can cling to rocks even on exposed headlands and seagrass beds which form an important part of the diet of our sea turtles as well as providing shelter for juvenile barramundi and other fish.
​Our animal life is even more diverse than islands further from the coast because the flooding that occurred in the last ice age is relatively recent so many species have been preserved.
Our endangered species include the Proserpine rock-wallaby introduced to Hayman Island as part of a species recovery program. If you visit Conway or Dryander National Park, you may see some. We also have a large number of flying foxes and Lace monitors – dark with white, cream or yellow scales up to 2m long. You can sometimes see them trying to cross the road as they eat carrion (rotten carcasses). You can also see them in numbers on the south end of Whitehaven Beach. 
​We have the largest nursery for Humpback whales in the eastern seaboard. They arrive here from their feeding grounds in Antarctica annually from June to September to have their young. It's an incredible moment to bear witness to a mother teaching her calf to swim in the winter months (June-September) as they frolic around. The good news is these mammals have returned in numbers to almost the same as in pre-whaling days. Boats are not permitted within 300m of any whales.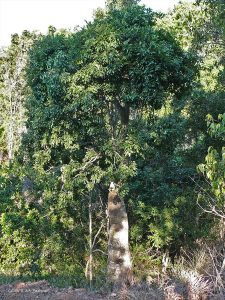 Yes, it's a bit of a mouthful but it is our local tree – unique to us.  It is a type of bottle tree and it can grow to 15 metres. 
See if you can find one when you go walking.  Here are some facts to help you in your search.
So, it's not surprising with all of these natural assets, we have a vibrant community who focus on the environment. The Whitsunday region is home to around 35,000 permanent residents who include many strong fighters for conservation.
Whitsunday Residents Against Dumping (WRAD) was a volunteer community group that came together officially in early 2014 to protect the Great Barrier Reef and the Caley Valley Wetlands from the proposed Abbot Point coal port expansion. This expansion meant that an enormous amount of toxic dredge spoil was to be dumped in the ocean – within the boundaries of the Great Barrier Reef Marine Park.
And we are home to Eco Barge Clean Seas Inc a volunteer organisation which removes marine rubbish – since July 2009 they have moved 207,720 kilograms of marine debris – and they recycle and transform ocean plastics to reduce landfill and care for injured and sick turtles.
We have Whitsunday Community Garden established in 2016 which swaps and shares produce and Fauna Rescue Whitsundays which provides a 24 hour wildlife hotline service.
As well, we have Whitsunday Catchment LandCare which encourages sustainability and provides a local wildlife and local plants database.
The Whitsunday Conservation Council provides the opportunity to help these wonderful initiatives and to place conservation at the centre of all government decisions, whether it be local, state or federal which involve our beautiful backyard.
A healthy environment is essential, if we are to maintain the usual and the unusual flora and fauna that is our heritage.