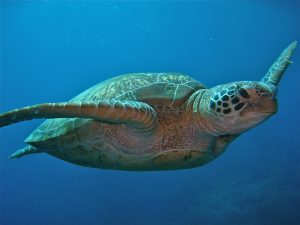 Here in the Whitsundays, we are lucky to have species such as sea turtles and dugongs right on our doorstep. Many people don't realise that literally right off the boardwalk or beach at Cannonvale, there is a large seagrass meadow where Dugongs and Green Turtles graze at high tide, and turtles bask on the mud at low tide. Both species feed almost exclusively on seagrass, with an adult dugong consuming up to 40 Kgs per day, while an adult Green Turtle can crop up to 2 Kgs of leaves each day.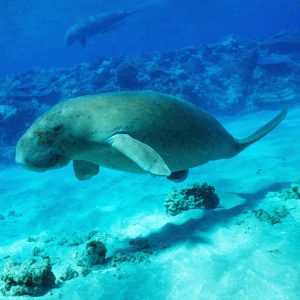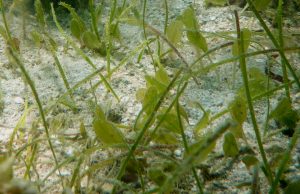 Luckily tropical seagrasses are amongst the most productive habitats known, with an entire meadow able to replace all of its leaves in just 10 days. The Pigeon Island seagrass meadow is a significant food resource for dugongs and turtles, as well as a nursery for fish, crabs and prawns and a feeding are for migratory wading birds in summer. Seabed with seagrass is home to 40 times more creatures than bare sediment, which provides food for our inshore marine life.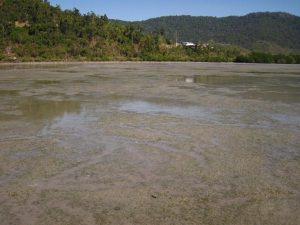 Stretching from VMR, right across to Botanica on the other side of the bay, the meadow is about 946 Ha in area. The seagrass species found there are species which dugongs and turtles prefer; this is not just a happy coincidence! Dugongs have been compared to farmers, in that their feeding habits (a little like a snow-plough going through), and consequent defecation, actually encourages the germination and growth of the exact species that they prefer to eat.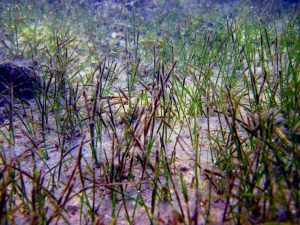 Seagrass needs sunlight to grow, so with the bay often being quite murky, it is mostly restricted to growing in the shallow intertidal area. This means that dugongs and turtles are feeding in the shallows there every high tide. As the numbers of boats on the local waterways keep increasing, these animals are at increased risk of boat strike, or being driven off their feeding grounds by the frequency of small boats and jet-skis travelling at speed over the meadow at high tide. Local commercial jet-ski tour operators are aware of the presence of wildlife and avoid travelling at high speed over the meadow. Private owners of boats/jet-skis may not even be locals and seem to be unaware of the risk of hitting wildlife as there are no signs to warn them of this precious feeding ground. They even seem to be unaware of how shallow the area is: one jet-ski ran completely aground on the seagrass right next to Pigeon Island recently.
Whitsunday Conservation Council has taken up this issue, which has been raised with authorities on many occasions by a number of people over the years, so far to no avail. We argue that if a 6 knot zone can be implemented for the safety of people on boats in the mooring grid, then a go-slow zone can be implemented to protect dugong and turtles on the seagrass meadow. An example exists already where this had been done in Moreton Bay Marine Park:
And we need signs to alert people to our special feeding ground.
Hopefully with enough support we can get some public education and a Go-Slow zone so that we can keep enjoying the privilege of having these amazing wildlife right by where we live.