What Rubbish…
Who would have thought marine debris could be so interesting?
Or that one of our past serial offenders is none other than the Bureau of Meteorology, whose weather balloon remnants, constructed from polystyrene floats and rubber, attract turtles who think the balloons are jellyfish?
Tangaroa Blue Foundation is an Australian wide non-profit organisation that leads our national fight against marine debris. Its program is the Australian Marine Debris initiative, a network of volunteers, communities and organisations who monitor the impacts of marine debris along our coastlines.
Our own Eco Barge here in the Whitsundays has been at the forefront of the battle against marine debris and has been providing data to the program for the past decade.
Heidi Tait, Managing Director and Co-Founder of Tangaroa Blue was named one of the '18 Most Influential Women in Ocean Conservation' in the July 2018 edition of Ocean Geographic. She now lives in the Whitsundays.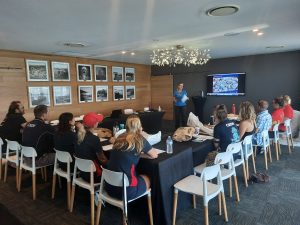 Back in 2009, Heidi explains to the group, volunteers in Port Douglas started to find 'a whole heap' of strange debris.
"It was foam that was sticky on both sides. We discovered it was polystyrene targets that are part of the BOM weather balloons. BOM told us they were releasing a hundred of these every day around the country. They have a huge balloon and a polystyrene target with a cross section on and has a silver sticker on it so the radar can lock on to it. At night it has a torch with double AA batteries attached to it and a radiosonde which collects data."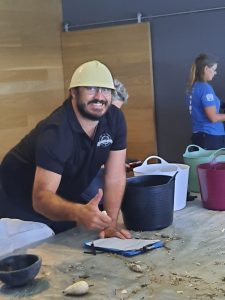 After reporting the debris findings, Heidi said it took two years and a scientific paper using the group's findings, to get a reaction from BOM.
The day after the paper was published she received a phone call saying BOM agreed that change was needed and the following year they changed the polystyrene to cardboard.
"We're still finding bits of it," she confessed. "So, it is a category when we do our data collection."
BOM also went on to change the colour of its balloons to blue following discussions with Dr Kathy Townsend from the University of the Sunshine Coast, a researcher in turtle ingestion of plastic who said turtles were less likely to confuse that colour with jellyfish.
"They used to use white, pink, yellow, orange, red as depending on cloud cover on the day they wanted to find. This year we started finding blue ones," she said.
The Australian Marine Debris Initiative monitors the origin of the debris which is critical when considering action against particular polluters including determining the country of origin. Bleach bottles, for example are one of the major forms of debris.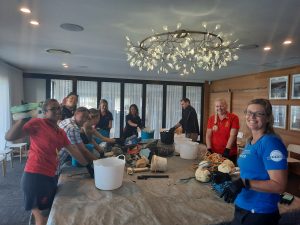 "When you look at the base, there are different sizes and colours and for example, one of the manufacturers is from Papua New Guinea and stamps KKK on the base of the bottle and we get a heap washed up from the currents," Heidi explains.
"A lot of these bottles have stab marks on the side. Some of the fishing crew crew take these when they go free diving and squirt bleach in to the coral heads and then out come the fish – for the aquarium trade –  because they are easier to catch. You aren't going to go diving with a 20 litre bleach drum."
Other offenders are cruise ships. Volunteers found 15,000 biofilters washed up on Phillip Island after a cruise ship broke down and was towed ashore.
"They had an issue with their waste treatment water and they had lots of biofilters which came out," Heidi said.
Finding the source of contamination is paramount in the fight against marine debris. Last October, volunteers discovered hundreds of biofilters at the end of a drainpipe behind a seafood shop in Bundaberg. The biofilters were being used in the shop's seafood tanks to filter the water.
"When they hosed the floor down it would go straight out into the river. They were able to put filters in the floor but also put another catch at the end of the pipe they're emptying regularly. So, it's a matter of finding the source, tracking it back and making the change," Heidi said.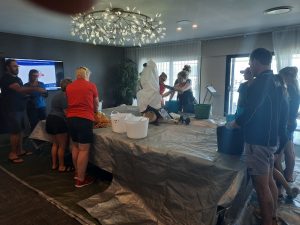 On the table in front of us is everything from oil bottles; bleach bottles; plastic or rubber remnants; lids; shoes; ropes; toothbrushes and deodorant bottles. All are diligently sorted into piles.
Heidi even waves a blasting cord for dynamite discarded she guesses was discarded after  rock was detonated for a rock wall.
Heidi became inspired to do something after being a diving instructor for 20 years when she became more and more concerned about the amount of plastics she was seeing in the ocean and on the beaches.
"Nobody was talking about the issue back in 2004," she said. "So, I organised a community clean up in WA and got everybody to collect data and from there started a project. It was really small to begin with – the south-west of WA – and then I moved to Port Douglas and replicated it there and now it's national."
Operation Clean Sweep, one of the programs, has been included in the National Plastic Plan announced last month by the Federal government.
Heidi says this program focuses on pellets used in the manufacturing of plastics and now companies are obligated to ensure plastic pellets, flakes and powders used as raw materials when making plastics are contained.