Proposed SHUTE HARBOUR Marina Development
CYCLONES & STORM SURGES AHEAD FOR TROUBLED SHUTE HARBOUR MARINA DEVELOPMENT
The troubled Shute Harbour marina proposal on the Whitsunday coast would be another Port Hinchinbrook marina disaster waiting to happen with any recovery costs billed to Whitsunday ratepayers. So says community group Save Our Foreshore Inc (SOF) which has been challenging the proposal since its questionable revival from an expired 1994 special lease, but initially proposed in the mid 1980's.
"The 30th April 2022 'opening'  should be seen for what it is – a desperate PR attempt to shore up support to keep a 30 year old proposal on life support for a little longer," said SOF President Suzette Pelt who, with Vice President Helen Altman, has had this proposal on the watch list for over 20 years. "There have been questions raised over its financial viability and un-insurability in a known cyclone location since day 1", said Mrs Pelt, owner/operator of a marine business in the Whitsundays for over 21 years.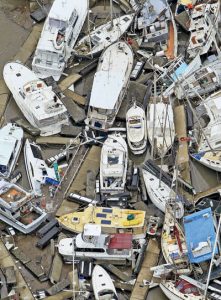 "Described by the developers as a 'sheltered port', anyone who has lived through a cyclone in this area knows Shute Harbour is anything but sheltered. The memorial on the Airlie Beach foreshore commemorating the lives lost in Shute Harbour during Cyclone Ada testifies to this".
"The dredging and geo tech required by this proposal are massively expensive and to date the proponents have not been able to come up with the basic funding to meet even the first milestone condition of the development" (Condition 9.1 of the Co-ordinator Generals approval of the Development lease/attached). And in view of a report released 3 May 2022 that Climate change means 1 in 25 homes could become uninsurable by 2030, it is inconceivable that this proposed suburb on the seabed could be insured against future cyclonic weather events.
"Every independent report tells us that reclaimed seabed in a cyclone area is not an appropriate location for housing development", SOF says. "The out of date proposal is out of step with current knowledge on climate change. Those impacts alone should prevent this from putting people and property in danger".
"This isn't about stopping marinas, it's about stopping a marina being put in the wrong place. A development of this style and scale in Shute Harbour is a Hinchinbrook style disaster waiting to happen. All the warnings are there. There are better locations for boats".
"But the Shute Harbour marina proposal is more about selling 5 story waterfront real estate and reclaimed land in what locals have long called 'cyclone alley". An antiquated "suburb on sea bed" concept which SOF and other informed local communities in Queensland have contested for years.
"It is dangerously misleading to tell people it's a safe location, no rock wall is a guarantee of safety in this era of increased cyclone activity, as seen worldwide this past decade after hurricanes and cyclones. Building homes on reclaimed seabed in a storm surge zone is madness".
"To make matters even worse, ratepayers will be funding any disaster clean up when, after years of not supporting this proposal, the Whitsunday Regional Council suddenly decided to support it with early incorporation into the Town Plan."
This proposal, along with so many of its lease conditions, was in default years ago. It's time for the Minister to put an end to it before any more damage is done and lives potentially lost.
For more information please contact:
SUZETTE PELT – President Save Our Foreshore – Inc Mob: 0419768195