After the 170mm plus rain event that we have just had (10-12th of May 2022), Waite Creek in Cannonvale was running brown with sediment.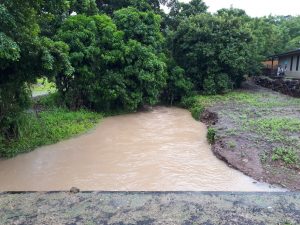 The closest I could get to finding the source of the sediment was to see that it was coming from somewhere upstream of the Parker Rd crossing, where it enters the Twin Creeks Park.
The photos attached were taken at about 11am 12-05-22 from the creek crossing at Parker Rd.
This is a lot of sediment that will directly affect the inshore marine life in the local area.
This is the second time that I have seen this in this creek, in 2 consecutive wet seasons.
The Whitsundays is a marine tourism destination, if we want it to remain so, we need to do a much better job of protecting the local marine environment from sediment runoff.